Story
Few things on Earth are as miraculous and vital as seeds. Worshipped and treasured since the dawn of humankind, these subtle flecks of life are the source of all existence. Like tiny time capsules, they contain the songs, sustenance, memories, and medicines of entire cultures. They feed us, clothe us, and provide the raw materials for our everyday lives. In a very real
sense, they are life itself.

Yet in our modern world, these precious gifts of nature are in grave danger. In less than a century of industrial agriculture, our once abundant seed diversity—painstakingly created by ancient farmers and gardeners over countless millennia—has been drastically winnowed down to a handful of mass-produced varieties. Under the spell of industrial "progress" and a lust for profit, our quaint family farmsteads have given way to mechanized agribusinesses sowing genetically identical crops on a monstrous scale. Recent news headlines suggest that Irish history may already be repeating in our globalized food system. Articles in the New York Times and other mainstream sources report the impending collapse of the world's supplies of bananas, oranges, coffee and coconuts—all due to a shortsighted over-reliance on a single, fragile variety. Without seed diversity, crop diseases rise and empires fall.

More than a cautionary tale of "man against nature," the remarkable story of seeds is an epic "good-versus-evil" saga playing out in our modern lives. For eons, cultures around the world have believed seeds to be our birthright: a covenant with the earth shared by all and passed down across generations. But today, our seeds are increasingly private property held in corporate hands. A cadre of ten agrichemical companies (including Syngenta, Bayer, and Monsanto) now controls more than two-thirds of the global seed market, reaping unprecedented profits. Genetically modified crops (GMOs) engineered in their sterile laboratories dominate farmers' fields and dinner tables in the United States and countries around the world. Farmers from Minnesota to Madhya Pradesh, India toil in economic thrall to the "Gene Giants," paying hefty licensing fees to plant their patented crops. If they attempt to save their own seed at the end of a season, following a tradition practiced by humans for over 12,000 years, they face ruthless prosecution. (Suffering under this indentured servitude, over 250,000 farmers in India have committed suicide in the last 20 years.)

People everywhere are waking up to the vital importance of seeds for our future. In recent months, March Against Monsanto protests have rallied millions in more than 400 cities and 50 countries to the cause of seed freedom. Ballot initiatives to label genetically modified foods have been proposed in U.S. cities from California to Connecticut—a direct threat to the profits of the Gene Giants and their Big Food cronies. Seed libraries, community gardens, and a new generation of passionate young farmers are cropping up to shift the balance toward a more sustainable and sovereign seed paradigm. A David and Goliath battle is underway, and the stakes couldn't be higher.
Synopsis
Few things on Earth are as miraculous and vital as seeds. Worshipped and treasured since the dawn of humankind. SEED: The Untold Story follows passionate seed keepers protecting our 12,000 year-old food legacy. In the last century, 94% of our seed varieties have disappeared. As biotech chemical companies control the majority of our seeds, farmers, scientists, lawyers, and indigenous seed keepers fight a David and Goliath battle to defend the future of our food. In a harrowing and heartening story, these reluctant heroes rekindle a lost connection to our most treasured resource and revive a culture connected to seeds. SEED features Vandana Shiva, Dr. Jane Goodall, Andrew Kimbrell, Winona Laduke and Raj Patel.
logline
As many irreplaceable seeds near extinction, SEED reveals the harrowing and heartening story of passionate seed keepers as they wage a David and Goliath battle against chemical seed companies, defending a 12,000 year food legacy.
TAGGART SIEGEL - Director/Producer
Taggart Siegel is the Director/Producer of SEED: The Untold Story (Upcoming Broadcast on PBS Independent Lens). He has produced and directed Emmy-nominated, award-winning documentaries including QUEEN OF THE SUN: What are the Bees Telling Us? and THE REAL DIRT ON FARMER JOHN (ITVS, Independent Lens). These films received critical-acclaim during their theatrical release and garnered over 40 international awards. Siegel is a Fledgling Outreach and Engagement Lab Fellow and was selected to pitch SEED at Britdocs GOODPITCH. His previous PBS films include: SPLIT HORN, (ITVS, Independent Lens), BETWEEN TWO WORLDS, BLUE COLLAR AND BUDDHA and HEART BROKEN IN HALF. Collectively, they capture the struggle of refugees and immigrants in America. He produced the National Geographic film DISENCHANTED FOREST about orangutans in Borneo and was the director of SHADOW OF A PEPPER TREE. Taggart is the founder and Executive Director of Collective Eye Films, a non-profit media production and distribution organization based in Portland, Oregon.
JON BETZ - Director/Producer
Jon Betz is the Director/Producer & Editor of SEED: The Untold Story (Upcoming Broadcast on PBS Independent Lens). Betz is an Emmy-nominated, award-winning independent documentary filmmaker. He is the producer and editor for QUEEN OF THE SUN: What Are the Bees Telling Us? (2010). QUEEN OF THE SUN was critically- acclaimed during it's U.S. theatrical release and heralded by The New York Times as "Revelatory! A Critic's Pick" His previous film, MEMORIZE YOU SAW IT (2008) journals his experience as an aid worker living with former-child soldiers in Eastern Uganda. Betz is a Fledgling Outreach and Engagement and Lab Fellow, a Britdocs GOODPITCH alumni and a graduate from Rhode Island School of Design. He is the director of distribution at Collective Eye Films, a non-profit media production and documentary distribution organization based in Portland, Oregon.
Marisa Tomei - Executive Producer
Marisa Tomei is an Academy-Award winning American stage, film, and television actress and founder of Seneca Falls Picture Company. She came to prominence in 1992 with MY COUSIN VINNY, for which she won the Academy Award for Best Supporting Actress. She received Academy Award nominations for her performances in IN THE BEDROOM and THE WRESTLER. Tomei is actively dedicated to humanitarian causes including VDay, a global event to raise awareness about violence against women and girls. Tomei hosted "reclaim REAL food" to bring attention to the importance of labeling our food.
MARC TURTLETAUB - EXECUTIVE PRODUCER
Marc Turtletaub has served as a producer on numerous independent films including the Academy Award-winning LITTLE MISS SUNSHINE. Recent releases include Sam Mendes' AWAY WE GO, starring Maya Rudolph and John Krasinski, Christine Jeffs' SUNSHINE CLEANING starring Amy Adams and Emily Blunt and John Crowley's IS ANYBODY THERE? starring Michael Caine. Turtletaub has also produced Liev Schrieber's EVERYTHING IS ILLUMINATED. Other producing credits include JACK GOES BOATING, LAWS OF ATTRACTION, THE HONEYMOONERS, and a documentary called LUCKY by Jeffrey Blitz.
PHIL FAIRCLOUGH | EXECUTIVE PRODUCER
Phil Fairclough was intimately involved as executive producer and producer on several of Werner Herzog's documentaries including the acclaimed GRIZZLY MAN, the Oscar nominated ENCOUNTERS AT THE END OF THE WORLD and CAVE OF FORGOTTEN DREAMS. Phil was a network executive at Discovery Channel, EVP of Development and Production for NHNZ. Before working at Discovery, Phil held senior positions at the BBC and ITV – and had extensive production experience in the UK, including the acclaimed BBC Natural History Unit where he was an executive producer and head of the commercial production unit.
Directors' Statement
The story of our seeds is a defining story of our time. Caught between the runaway juggernaut of industrial agriculture and the ecological, cultural, and spiritual destruction in its wake, seeds offer us a profound chance to restore mutual harmony between people and planet. They are the eternal promise of an abundant new world waiting to be born. But the time for this redemption is running out. In telling this story, we aim to bring into clear focus the beauty, hope, and magic that seeds represent for humanity at this critical juncture.
For years, we have passionately made films that reveal our deep connection to nature and our food. The Real Dirt on Farmer John (2005), tells the story of a maverick farmer who saves his family farm against all odds. Queen of the Sun: What Are the Bees Telling Us? (2010) investigates the mysterious colony collapse disorder ravaging honeybees around the world.
SEED: The Untold Story began with an article in National Geographic reported that up to 96% of the vegetable seeds available in 1903 have disappeared. Within moments we knew that was our next film. The speed and scope of this loss is staggering, and its implications for our future are stark. As the renowned naturalist and author Gary Paul Nabhan puts it, "Many of our seeds today are as endangered as a panda or polar bear." In an era of climate uncertainty, this dearth of diversity is a recipe for catastrophic crop failure and human suffering– not unlike The Great Famine of Ireland that saw the starvation of nearly a million people when their sole crop variety, a potato, was wiped out by blight. SEED explores a topic that is still largely unknown, yet it is increasingly urgent with climate change and the consolidation and control of the seed industry.
SEED completes a trilogy of films that uncovers the invisible connections between our food and the natural world. As we filmed seed savers, farmers, scientists and indigenous communities for SEED, we were struck by how little their voices are heard. SEED presents audiences with a hidden fabric of our food, the people that painstakingly and meticulously curate the diversity of our food. The film charts a David and Goliath battle as these marginalized people fight the large corporate power of chemical companies that now control the majority of our food.
- JON BETZ & TAGGART SIEGEL
Director Interview
What were some of the biggest challenges you faced in making this film?
It was a challenge to know where to begin when making a film about a topic as big and broad as that of seeds. We discovered that the story is historical, political, scientific, and cultural. There are seed saving cultures in every corner of the globe, that spans back 12,000 years. Seeds are embedded in our art, in our language, in our songs, in our DNA. Our greatest challenge was weaving these vast elements together to create a moving, entertaining and cohesive story.
We wanted SEED to be as artistic as possible, using animation, time lapse photography, macro photography to bring seeds alive, and to show that they are living embryos . To establish the historical underlay, we choose to drive the story with animation: stop-motion, sand, and beautiful cut-paper montages. Sometimes we asked animators to use the seeds themselves in a animation tapestry to tell part of the tale. It took months to do all of this, but it gives the film a unique and rich flavor. By using macro lenses we enlarged these tiny seeds to witness seeds as works of art, architectural wonders, and mysterious gems. We poured meteorite showers of corn, beans and helicopter like sycamore seeds at the camera and set up a time-lapse photography to show a seed giving birth to a plant.
How did you gain the trust of the subjects in your film?
We often started by presenting our previous films, The Real Dirt on Farmer John, and Queen of the Sun: What are the Bees Telling Us? and this opened doors for greater trust and understanding. Because we shared the similar passions around food, farming, beekeeping and seeds this established a common ground, a place where we could explore the wonders of seeds together.
What would you have liked to include in your film that didn't make the cut?
We had to edit 40 minutes out of the feature length version of SEED: The Untold Story to create the hour-long PBS Independent Lens broadcast. A few people didn't make it, including Winona LaDuke, a powerful indigenous leader of the Ojibwe people in Northern Minnesota and a leader in advocating for the rights of her people. Her story of protecting the wild rice of the Ojibwe from genetic modification by the University of Minnesota is powerful and important.
We also removed Percy Schmeiser, who tells a dramatic story about genetic contamination of his canola seed field in Canada in the late 90's. He was sued by Monsanto after the wind carried pollen from neighboring GMO crops into his organic field. He was forced into a shocking and unprecedented lawsuit that opened the floodgates to sueing other farmers for patent infringement when their crops unexpectedly cross-pollinate from no fault of their own.
Lastly, we removed a major scene in Mexico, where the origin place of all corn is being contaminated by GMOs.
If you're interested you can watch the feature length version here.
Do you have a scene in your film that is especially a favorite or made the most impact on you?
While filming a seed school event in the four corners of Colorado, Arizona, New Mexico and Colorado we met a Hopi Elder, Leigh Kuwanwisiwma who was performing a sacred ceremony for seed planting. We asked if we could film, but he explained that filming was not allowed. He later invited us to the Hopi Nation to record an oral history for his children and grandchildren about his culture and his lifetime stewarding Hopi corn seeds. He conveyed the story of the Hopi's 5,000 year relationship to corn, explaining that the corn are his children. His relationship to a seed was so profound and spiritual it changed how we viewed seeds. When he explained the threat that their corn could be contaminated by GMOs and owned and patented by the largest corporations in the world, it hit home.
Is there anything else you'd like to share — interesting anecdotes regarding filming, a commonly asked question by audiences, etc.?
The film opens with a stunning scene that features a woman lying down in a pink dress with bags of seeds surrounding her. This was a fun sequence to create, and audiences often ask how it was done. Sara Mapelli, featured in our previous film Queen of the Sun: What are The Bees Telling Us? danced with a 20,000 bees all over her body. She came to us and expressed a interest to grow seeds all over her body and wanted to know if we would film it. You can't get this chance in life more than once, so we rigged multiple cameras that took photos every minute. She ended up laying in one place for 64 hours in order to create this otherworldly shot where seeds sprout out of her dress and hair. The whole sequence in the film lasts less than 30 seconds.
What are your three favorite/most influential documentaries or feature films?
Jon: Documentaries that taught me telling a story well can also be a lot of fun– Ross McElwee's Sherman's March, Les Blank's Burden of Dreams and Banksy's Exit through the Gift Shop.
Taggart: Brother's Keeper, Capturing the Friedmans, Koyaanisqatsi, Microcosmos
What advice do you have for aspiring filmmakers?
Before you set off to make your film make sure you're passionate about the subject matter, that it lives in your bones, in your heart and in your mind. This journey requires conviction, stamina, and courage while navigating and sustaining often years of the emotional rollercoaster that it takes to complete a film. From funding to completion, the process is utterly exhausting but the final product is so exhilarating that it makes it all worth it.
Our advice is to watch and study great films to understand the art and craft of storytelling. Study closely how these stories were edited. Focus on how the visuals combine with words to create a unique vision from that filmmaker. Pay attention to how music and sound effects play an important role in unfolding the story and how it can help shape your own unique vision for your film.
What film/project(s) are you working on next?
Taggart: Before jumping into the next big project, I'm making a film for the seed saving, permaculture and biodynamic farming and gardening community. I'm taking material that didn't make it into SEED: the Untold Story and creating a companion piece that contains more in-depth interviews, additional stories, esoteric and abstract thoughts combined with practical seed keeping to inspire the next generation.
Jon: I'm now the Director of Distribution at Collective Eye Films. Leaping off of the experience of distributing SEED: The Untold Story and Queen of the Sun: What are the Bees Telling Us? I'm enjoying the process of stewarding over 150 great documentaries and collaborating with filmmakers on educational and grassroots screening distribution strategies. My focus is to champion filmmakers, helping them find audiences for their films.
Do you have any updates on the main characters in your film you can share with our audience, or will you be willing to do so closer to broadcast?
Bill McDorman, former Director of Native Seed/SEARCH now runs Rocky Mountain Seed Alliance. He is traveling the country, hosting seed schools, and has started the Million New Seed Saver Campaign.
Will Bonsall, the Noah-like character from Maine finished his amazing book on gardening, "The Essential Guide to Radical Self-Reliant Gardening". He is traveling and entertaining audiences with his wit and sarcasm.
Joe Simcox, the botanical explorer continues to travel the world finding rare seeds and wild crops. Every time we get an email he's in a different country.
Rowen White, founder of Sierra Seeds is now Chairman of the Board of Seed Savers Exchange, the pre-eminent seed saving network in the US.
Louie Hena and Clayton Brascoupe of the Tesuque Pueblo outside of Santa Fe continue to strengthen the Traditional Native American Farming Association and are helping to ban GMOs on Native American Reservations.
Jane Goodall just turned 83 and still traveling the world to protect animals and biodiversity. Her book on seeds is available called Seeds of Hope.
How can people get involved to support and make change on this issue?
Saving seed diversity starts with buying food and produce that is organically grown, fairly traded, and as local as possible. Visit your local farmer's market to support small farmers. Buy those purple carrots and heirloom tomatoes, and keep diversity alive!
Become a seedkeeper by growing non-GMO, open pollinated, heirloom and organic seeds in your garden. Make sure your seeds and plants are free of neonicotinoid pesticide coatings that kill bees and pollinators. Save your seeds, and then share them with your community at seed swaps, farmers markets, community gardens and seed libraries. Bill McDorman, who is in the film, has started the Million New Seed Savers Campaign to encourage people to join a community of seed savers and participate in the simple act of planting and saving a seed.
If your community doesn't have a seed library help create one in your community. Seed Libraries are a growing social movement in the U.S. There are over 500 seed libraries around the country. Seed Libraries are free, and once you check out your seeds, you take on the fun and exciting role of a seed saver! Just save seeds from your plants, and bring your seeds back the next year to "return" them to the library. Find a Seed Library near you in the U.S. and abroad. Join the Seed Library Social Network.
Many seed banks are critically underfunded, and they need your support to responsibly grow out and maintain the thousands of seed varieties that we depend on for our future. Find your local seed bank and seed saving communities and lend your support.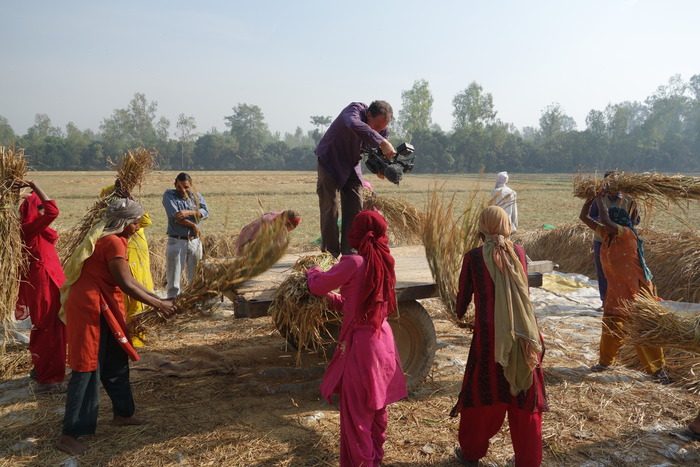 PRESS QUOTES
"[SEED] IS A GORGEOUSLY MADE FILM, PUT TOGETHER WITH AS MUCH CARE AS ITS SUBJECTS DEVOTE TO SAVING THE REMAINING VARIETIES OF SEEDS."
-LOS ANGELES TIMES
"RARE DOCUMENTARY FROM FILMMAKERS WHO ARE NOT JUST CAPABLE BUT ALSO IN LOVE WITH THEIR CRAFT...A WONDER..."
-VILLAGE VOICE
"IT'S THE MOST ESSENTIAL, ILLUMINATING AND ENRAGING FILM SINCE FOOD, INC."
-AVI OFFER, NYC MOVIE GURU
"INGREDIENTS OF A CLASSIC TALE: A BEAUTIFUL, YET VULNERABLE PROTAGONIST, MURDER AND DEVASTATION, CORRUPT VILLAINS, UNSUNG HEROES AND AN UNSHAKABLE HOPE."
- VUE WEEKLY
"PURE ART, GLOWING AND SMOLDERING WITH FECUND LIFE."
-MOTIF, RHODE ISLAND WEEKLY
"A SUPERB DOCUMENTARY…VISUALLY STUNNING...A MODEL OF SCIENTIFIC INSIGHT, STORY-TELLING AND CINEMATIC PANACHE THAT REMINDS US THAT THE FUTURE OF LIFE UNDER CAPITALISM IS GUARDED AT BEST."
-REC.ARTS.MOVIE.REVIEWS
"A BOLDLY CREATIVE AND ETHICALLY ROBUST DOCUMENTARY ABOUT PROTECTING THE FOOD SUPPLY."
-SPIRITUALITY AND PRACTICE
"AN ECO-DOC CENTERED ON THE GLORIES OF DIVERSITY IN THE WORLD'S POPULATION OF EDIBLE PLANTS, SEED: THE UNTOLD STORY CONTAINS JUST ENOUGH GOURMET TOUCHES TO DRAW FOODIES INTO THE AUDIENCE ALONGSIDE THE USUAL ENVIRONMENTALIST CROWD."
-HOLLYWOOD REPORTER
"A BRILLIANTLY FILMED, SCRIPTED, AND DIRECTED DOCUMENTARY THAT WE ALL SHOULD PROBABLY VIEW. THE FRANK TESTIMONIAL APPROACH USED IN THIS FILM TELLS A VERY COMPELLING STORY…"
-THEATER BYTES
"THE FRIGHTENING BEAUTY OF SEED IS THE CLARITY WITH WHICH IT DEFINES THE MISSION OF SEED-SAVERS -- MAINTAINING AGRICULTURAL DIVERSITY FOR FUTURE GENERATIONS, WHATEVER THE WORLD THEY INHERIT; IT'S BLUNTLY PERSUASIVE."
-FILM JOURNAL INTERNATIONAL
" …..A BEAUTIFUL PIECE OF ART, CAREFUL, DEEPLY COLORED, AND POETIC….."
-HOLLYWOOD REPORT CARD
" A SYMPHONY OF HOPE "
-ANCHORAGE PRESS
" YOU OWE IT TO YOURSELF TO SEE THIS FILM"
-WHOLE LIFE TIMES
"A VISUAL SONG. BETZ AND SIEGEL TAKE THINGS THAT MOST PEOPLE SEE AS MUNDANE... AND MAKE THEM SENSUOUS, DAZZLING AND STUNNING. IT'S HARD TO MAKE AN IMPERFECT THING THAT HAS COME FROM THE GROUND LOOK AS PRECIOUS AS THE RAREST OF GEMS, BUT THAT'S WHAT THIS FILM DOES."
-LEAH'S MOVIE LOW DOWN
"CHRONICLES THE DISAPPEARANCE OF SOMETHING THAT'S ABSOLUTELY ELEMENTAL TO HUMAN EXISTENCE...PORTLAND FILMMAKERS JON BETZ AND TAGGART SIEGEL DELIVER A WAKE-UP CALL"
-GEORGIA STRAIGHT
" THESE ARE DARN SEXY CUCUMBERS AND ARTICHOKES. THE HISTORY OF THE WORLD IS FORMED BY THESE HUMBLE TUBERS AND CORNS.. "
-INK 9
" AMBITIOUS...A TRIUMPH...ENHANCED BY A DIVERSITY THAT MIRRORS THE FILM'S CENTRAL MESSAGE: THAT MAINTAINING DIVERSITY IN OUR SEED STOCKS IS CRUCIAL TO OUR SURVIVAL. THIS SPECIAL FILM BRINGS A REVIVAL OF CONSCIOUSNESS AROUND SEEDS"
-DINA MAGAZINE
" THIS FILM STANDS OUT AS ONE OF THE MOST IMPORTANT FILMS TO SCREEN… THE FILM IS ELEGANTLY STRUCTURED ... A DELICATE BALANCE BETWEEN DOOM AND GLOOM AND HOPE FOR THE FUTURE. WITH COMPELLING STORYTELLING AND ILLUMINATING THE PASSION AND SOLID SCIENTIFIC EVIDENCE BEHIND THE ARGUMENT PRESENTED IN THE FILM. HIGHLY RECOMMENDED."
-KINO-EYE
"A CALL TO ARMS ABOUT THE NEED FOR SEED DIVERSITY ...TAKES AUDIENCES ON A GORGEOUSLY FILMED AND CREATIVELY ANIMATED ADVENTURE...SEEN THROUGH THE EYES OF A COLORFUL CAST OF CHARACTERS. "
-IDAHO MOUNTAIN EXPRESS
" ...A ROBINSON CRUSOE ADVENTURE BOOK...A FILM THAT OFFERS EXQUISITE SURPRISES."
- MISSOULIAN INDEPENDENT